You Came to the Right Place
Congratulations on your decision to join the rewarding, exciting, and promising career of personal training! Becoming a Certified Personal Trainer (CPT) is a great opportunity. Based on the U.S. Bureau of Labor and Statistics, the job outlook for fitness trainers and instructors is projected to grow much faster than the average of all other occupations. Now, let's look at things you should consider before becoming a personal trainer.
What Type of Clients Do You Want to Work With?
Most people who become personal trainers want to help others and make a difference. But it's important to first think about what type of clients you want to work with and how you want to help them. That will help identify the best personal training certification to support your passion.
Not all personal training certifications cover the same topics, but they have a lot of overlap. For example, some personal training certifications often vary in their programming theories. Programming is the act of creating a workout for each day, week, and month ahead. Things to consider when writing a program for a client include exercise selection, sets, reps, rest periods, and load.
Some people already have a chosen path, but if you don't know which area of fitness you are interested in, that's okay. Personal trainers often figure out their specialization later in their career. To begin, ask yourself what you're curious about. If you find what motivates you, then you'll have a much more rewarding experience during the personal training certification process. Here are some typical specialties in personal training:





General Population Training

High-Intensity Interval Training (HIIT)

Injury Prevention and Rehabilitation



Prenatal and Postnatal Training


Personal Training Certification Exam Basics
Many professions require a license to do business. Often, these fields are highly regulated, so everyone in a given state takes the same exam. Personal training, however, is much more flexible. So, personal trainers don't have to take a predetermined exam given by the state. This gives trainers an advantage as they can choose the personal training certification that offers them the knowledge they need for their specific area of interest. Some personal training certifications focus on programming for athletes, the in-depth science behind training, or unique program theories.
Ultimately, every exam teaches the foundational science needed to begin your career. That's because the science of the human body rarely changes. The most significant exam differences lie in programming theories and the amount of detail in individual sections.
Despite their differences, all personal training certifications require you to recertify every two to three years. To recertify, you pay a fee to the certifying company and provide proof that you completed the continuing education requirements. The hours spent on continuing education are called contact hours or continuing education credits (CEUs). Each company has its own requirements for the number of hours and types of education that count. Refer to the individual certification websites for the most up-to-date information.
Many exams can jumpstart your career, but Focus recommends the four below. These are the most widely recognized, nationally accredited personal training certifications. Don't overthink your choice! The longer you take to choose an exam, the less time you have to study. After deciding, visit the certification website, and select your testing location, day, and time. Almost all personal training certifications give computer-based multiple choice exams, but some still use a paper format. If this is important to you, check with the certifying company before registering. Ready to hear more? Let's talk about certifications!
The Four Most Popular Personal Training Certifications


ACE: American Council on Exercise
Many trainers see ACE as the gold standard, and some employers exclusively hire ACE trainers. This makes sense because ACE is the largest non-profit certifying body in the health and fitness sector. They have provided personal trainer certification since 1985, and now they offer virtual study mentors to keep you accountable. That extra guidance comes in handy when you're living in a world of textbooks, study guides, and practice exams.
ACE goes above and beyond with a high level of detail in the science behind personal training. In my experience as a trainer and teacher, exercise science is crucial to starting a strong career. If all the trainers in the world understood exercise science thoroughly, clients would get faster, more long-last- ing results. 70% of individuals who took their ACE exam in 2018 passed on their first attempt.
Once you pass the CPT exam, look at ACE's options for specialty certifications to expand your clien- tele and increase your income. You could study to become a Group Fitness Instructor, Health Coach, or Medical Exercise Specialist.


NASM: National Academy of Sports Medicine
NASM is one of the most popular personal training certifications in the industry, and some gyms prefer to hire NASM-certified trainers. Founded by Dr. Robert Goldman in 1987, NASM delivers a unique approach to programming. He was inspired to educate personal trainers after witnessing the popularity of running in the 70s and bodybuilding in the 80s.
NASM emphasizes that there is a specific progression from types of exercises you teach beginner clients to ones you teach experienced clients. They call this method the Optimum Performance Training (OPT) model. The amount of detail in the OPT model challenges you to think of real-life examples as you study. Then, the exam questions ask you to apply the OPT model to specific client scenarios. 66% of individuals who took their NASM exam in 2018 passed on their first attempt. So, it's not an easy exam to pass. Be sure to prepare thoroughly prior to scheduling the exam.
In addition to the entry level CPT certification, NASM also offers several specialty certifications, such as the Group Personal Training Specialization, Youth Exercise Specialization, Nutrition Certification, and more.


NSCA: National Strength and Conditioning Association
NSCA was founded in 1978 by 76 strength coaches who had a pas- sion for strength and conditioning. They created the NSCA-CPT (Certified Personal Trainer) to educate and certify personal trainers and strength coaches. This personal training certification is highly regard- ed for preparing trainers to work with athletes. Of course, they also prepare you to work with other clients, but their spotlight on athletes is unique.
NSCA's standards are high, so the exam is quite challenging. Their 2019 pass rate was 72% for first- time exam takers. The NSCA-CPT certification requires extensive preparation regarding proper exercise techniques and programming, which are the staples of personal training. NSCA also publishes a popular scientific journal called The Journal of Strength and Conditioning Research. The journal consists of peer-reviewed studies that cover all aspects of exercise science. This is a valuable re- source for personal trainers as it allows them to implement the most recent and scientifically proven methodologies in their programs.
The NSCA is most widely recognized for their higher level certification, the Certified Strength and Conditioning Certification (CSCS). Many professional athletic trainers, physical therapists and top trainers who work with athletes often obtain this certification. The CSCS is only available to those who hold at least a Bachelor's degree or are currently enrolled as a college senior at an accredited institution.
The NSCA offers several other specialty certifications in addition to their entry level CPT exam, such as the Tactical Strength and Conditioning Facilitator, or the Certified Special Population Specialist.


ACSM: American College of Sports Medicine
In 1954, a group of doctors and educators saw the need for more awareness surrounding health and fitness. They founded the American College of Sports Medicine (ACSM) to carry out research and educate citizens. Their journals, which you can subscribe to on their website, contain their original research and cover topics like medicine in exercise science, exercise and sport science, and fitness. ACSM is the go-to resource for the latest exercise recommendations. They also created a personal training certification that demands a very high level of mastery in exercise science. Love academics? This certification is for you!
The ACSM exam is very challenging, with a 2019 pass rate of 64%. This means 64% of people pass on their first attempt. The majority of the questions are in the programming and implementation categories. So, when you're certified, you'll have a solid understanding of those areas. It's challenging, yes, but they support your studies with a unique online quiz platform called PrepU.
This personal training certification is for those who love high-level technicalities, so it may not be the best option for everyone. Even if you don't sign up for their CPT course, you can always take one of their specialty certifications like Cancer Exercise Trainer, Inclusive Fitness Trainer, and more.
They have provided personal trainer certification since 1985, and now they offer virtual study mentors to keep you accountable. That extra guidance comes in handy when you're living in a world of text- books, study guides, and practice exams.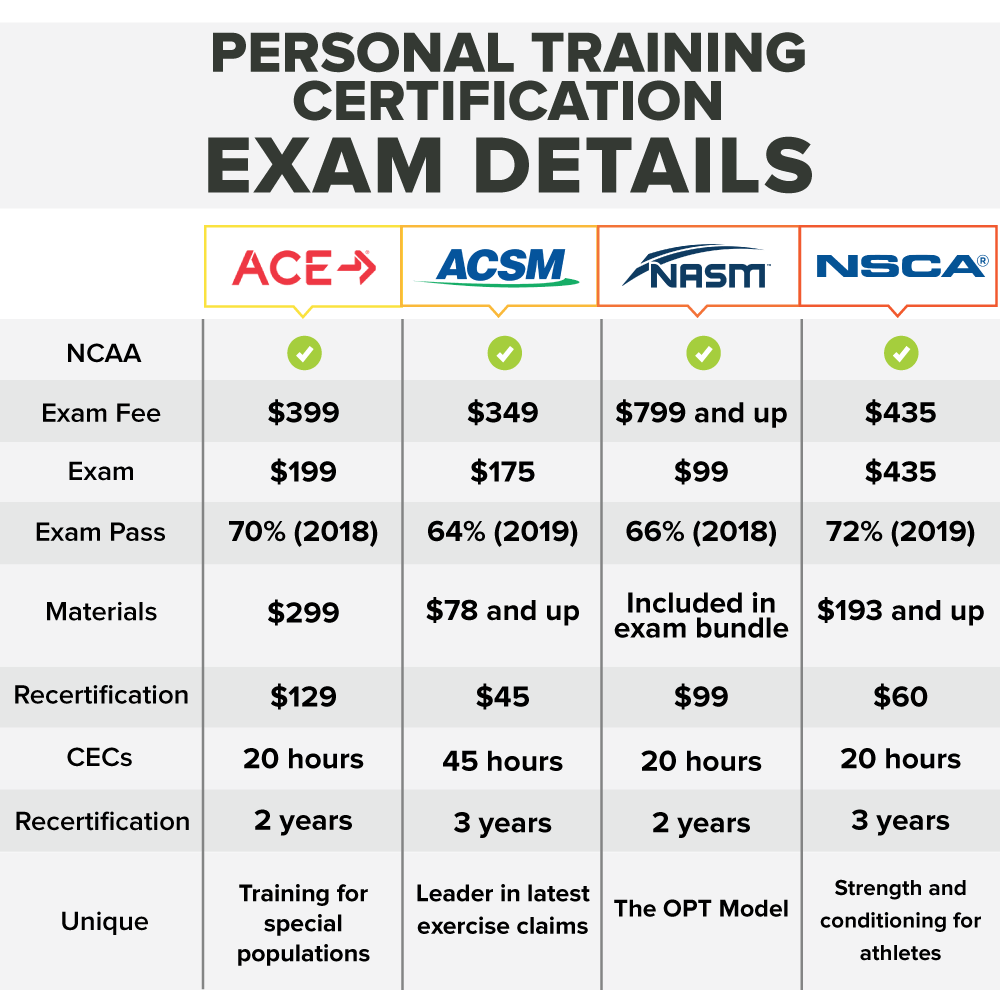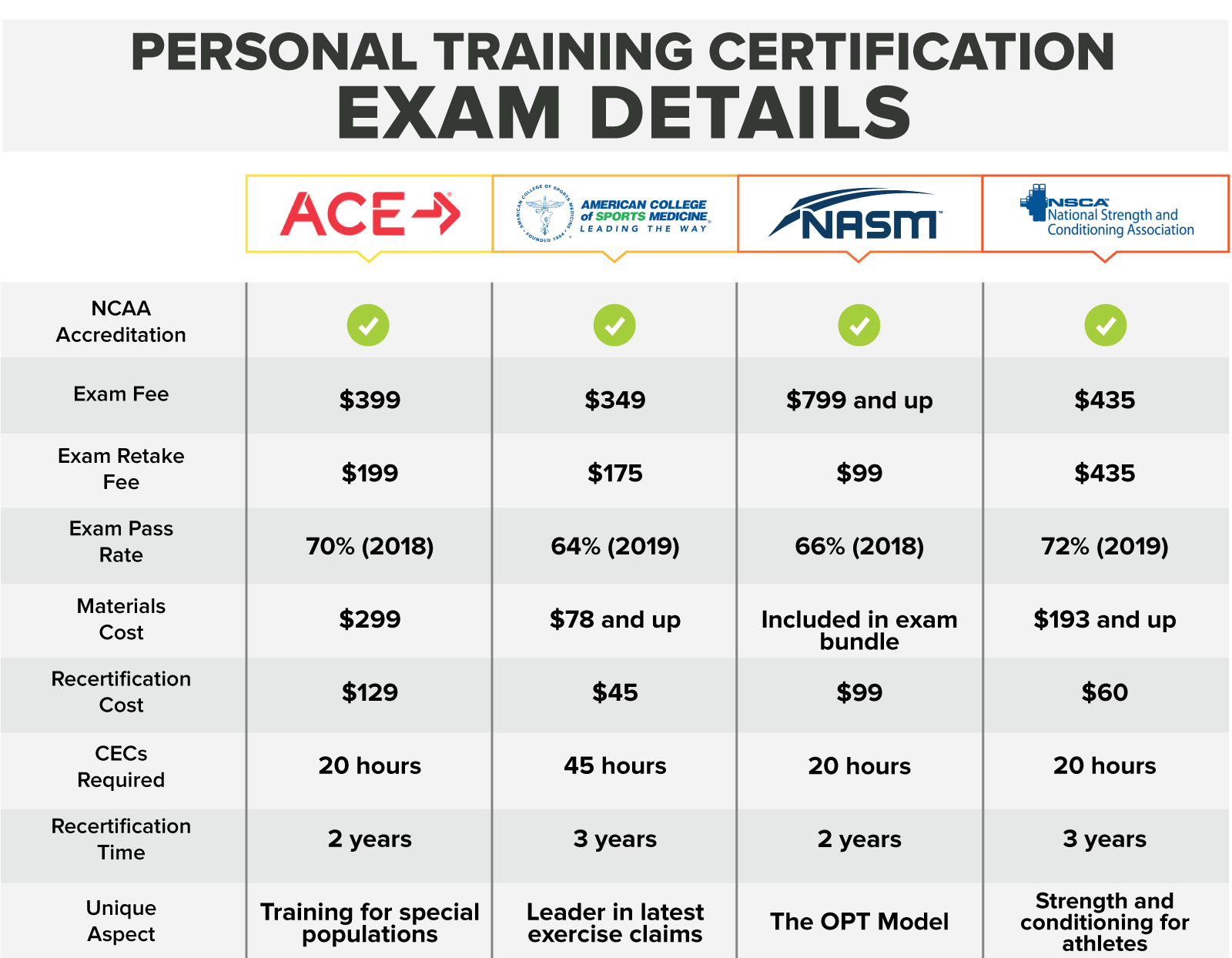 * Check each company's website regularly for price changes, promotions, and discounts.
Study Tips
All four of the entry level certified personal training certification exams are challenging. Yet, they are passable if you study. Feeling unsure of yourself is completely normal when starting the certification process. At Focus Personal Training Institute, we see students struggle with this all the time. They are nervous even though they spend up to 6 months in our programs preparing for the anatomy, physiology, programming, and assessment material before taking their certification exams. So, nerves are normal! Use these tips to put that nervous energy to work.

Create a study schedule, and hold yourself accountable. Maybe you plan to study for 1 hour a day, 4 days a week or 30 minutes a day, 7 days a week. Whatever you decide, stick to it. We suggest experimenting with scheduling options in the beginning to find what works for you, and then commit to that plan.
Studying works best when you find your learning style, such as visual, auditory, or kinesthetic techniques. Some people learn from a combination of methods. Take this quiz to determine your learning style.

You remember information best when you look at it. Flash cards, pictures, charts, and even rewriting material will help you.

You benefit from reading material aloud, talking about the concepts with others, and listening to audiobooks or podcasts rather than simply reading a book.

You remember things through movement or performing an activity. Go to the gym and experiment with the material you're learning, or study the names of the muscles on your own body. This one can be done while waiting in line for lunch!
We recommend our students take the exam within one month of graduating. For those not attending a personal training school with live hands-on learning, spend two to three months studying as it may take more time to fully understand the concepts. Everyone has a different study pace, so adjust to what works for you. The most important thing is to understand the information you're studying, not just reading it.
To test your knowledge, take practice exams. Some personal training certifications offer practice exams in your online account, and others provide quizzes within the textbook. Also, check out free quizzes on apps and websites like Pocket Prep, Quizlet, Fitness Mentors, Varsity Tutors, ProProfs, Personal Trainer Pioneer, and Test Prep Review.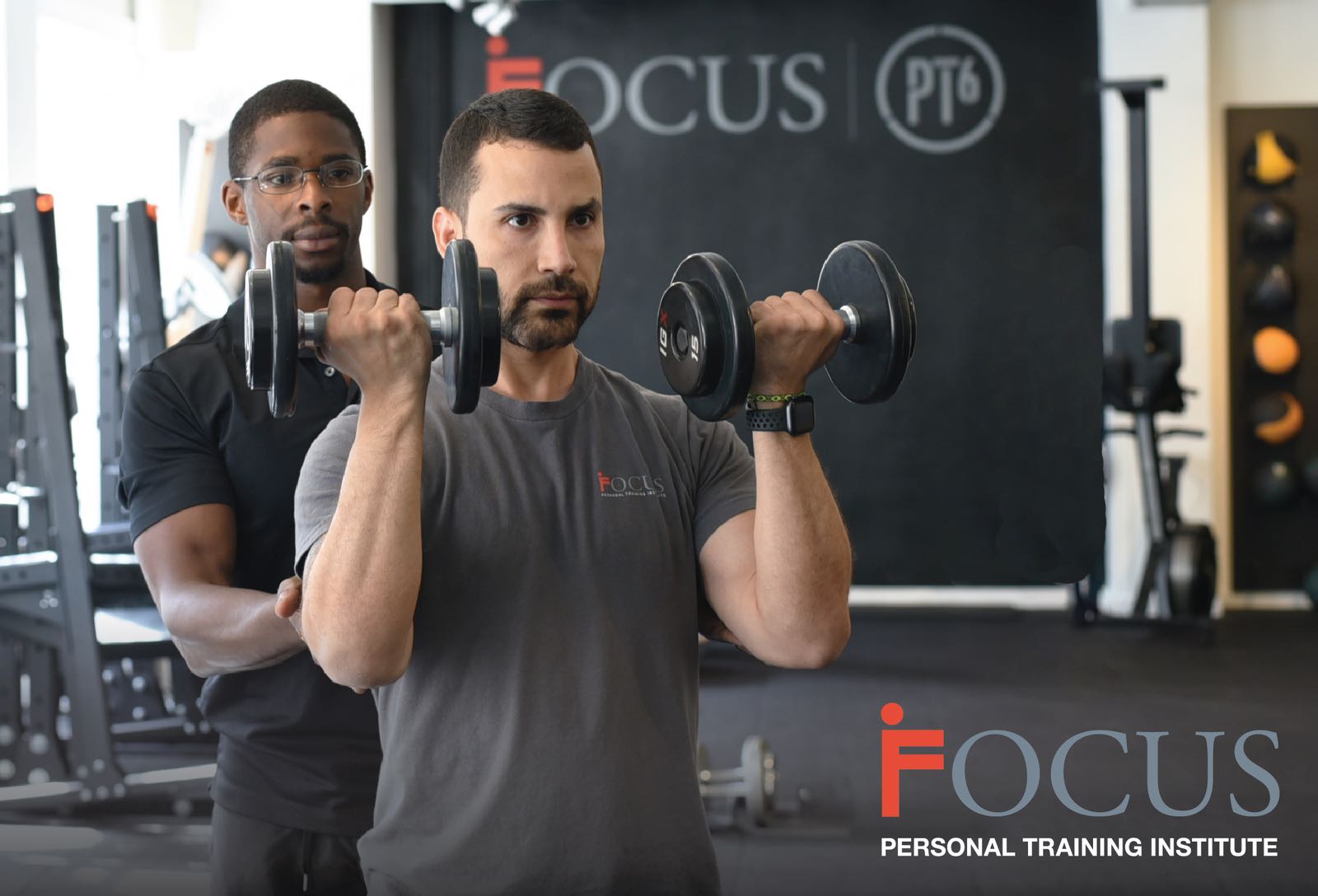 How Can Focus Personal Training Institute Help?
At Focus Personal Training Institute, we pride ourselves on not only preparing our students for these exams, but through live instruction, we show students how to take the information covered in the personal training certification textbooks and actually use it hands-on with clients. It's one thing to learn about how to administer an assessment or teach proper exercise technique from a book or watching online video. At Focus, you not only have an instructor to teach you these things, you also are able to practice everything you learn and get feedback from a professional person trainer and state-licensed teacher to make sure you are doing everything correctly. Learning by doing is the most powerful way to master the material.
We even help students pick a test date and register for the exam. Whether students choose ACE, ACSM, NASM, or NSCA, we provide lectures and materials to support their studies.
Our goal is to prepare students for their personal training certification exam as well as for the daily demands of their personal training career. The Focus mission is to educate and develop personal trainers who demonstrate technical proficiency, integrity, and professionalism. With that, we also aim to help you find your niche so that you can be confident that your clients will succeed in their goals.
From the first class through graduation and beyond, we continue to mentor our students to help them create a customized career path. No one leaves a Focus Personal Training Institute program without the knowledge, skills and abilities to help them launch a successful career as a professional personal trainer!
GET IN TOUCH
It's time to get results. It's time to get focused. Let's talk.
By pressing the 'Submit' button, I give my express consent for Focus Personal Training Institute to contact me regarding educational services by e-mail, telephone or text, including use of automated technology for calls or texts to any wireless number I provide. This consent may be withdrawn and is not required as a condition of purchase or enrollment.

References
ACSM Certified Personal Trainer®. (n.d.). Retrieved April 30, 2019, from https://www.acsm.org/get-stay-certified/get-certified/health-fitness- certifications/personal-trainer
Certified Personal Trainer® (NSCA-CPT®) Exam Description. (n.d.). Retrieved April 30, 2019, from https://www.nsca.com/certification/nsca-cpt/nsca-cpt-exam-description/
CPT EXAM INFORMATION. (n.d.). Retrieved April 30, 2019, from https://www.nasm.org/certified-personal-trainer/personal-trainer-exam
Fitness Trainers and Instructors: Occupational Outlook Handbook. (n.d.). Retrieved
April 30, 2019, from https://www.bls.gov/ooh/personal-care-and-service/fitness-trainers-and-instructors.htm
Neric, F. (2019, January 22). ACSM Certification Exam Pass Rates Reach Historic
Levels: Here's How. Retrieved April 30, 2019, from https://www.acsm.org/all-blog-posts/certification-blog/acsm-certi- fied-blog/2019/01/22/acsm-certification-exam-rates-reach-historic-levels-here-s-how
Ullman, S. (2017, November 03). Personal Trainer Certification: Here Are The Best Programs In America. Retrieved April 30, 2019, from
https://www.huffpost.com/entry/personal-trainer-certific_n_12768352